Leaving your valuables inside your car is no longer safe. Yesterday in just a span of 24 hours three separate "basag kotse" cases happened in Iloilo City.
Iloilo consumers will soon enjoy competitive power rates while at the same time helping preserve Panay's fragile eco-system in the midst of threats associated with climate change. Lawyer Salvador P. Cabaluna III, board president of Iloilo Electric Cooperative 1 (Ileco 1), said that officials of the cooperative are aware of the need to achieve the twin goals of keeping competitive electricity rates and protecting Panay's environment.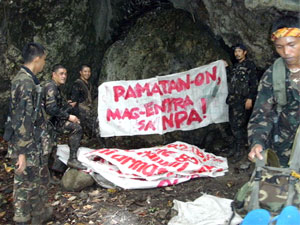 PHIL. ARMY PHOTO
Government troops from the 82nd Infatry Batallion's Scout Platoon encountered 12 New People's Army (NPA) rebels led by Rodel Muro a.k.a. Randy of the Napoleon Tumagtang Command of the NPA's Southern Front Committee in a temporary encampment at Sito Anilawan, Brgy Onop, Miag-ao, Iloilo around 10 a.m. yesterday.