City Mayor Jerry Treñas yesterday issued a stern warning to Iloilo City Police Office (ICPO) Director Sr. Supt. Melvin Mongcal to transfer policemen considered as "non-performing assets" outside of Iloilo City.
A multi-sectoral consultative dialogue is the main thrust of the two-island, three-day swing by Senators Benigno "Noynoy" Aquino III and Manuel "Mar" Roxas II, October 8-10, 2009.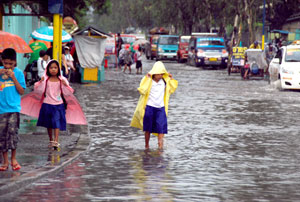 A.CHRIS FERNANDEZ
Health authorities in Region VI and the local government of Iloilo are all set to eliminate Filariasis in Iloilo province starting October 15 to November 15, 2009. "Filariasis one of the eradicable diseases," said Dr. Patricia Grace Trabado, provincial health officer of the Iloilo Provincial Health Office in a telephone interview with PIA, recently.