Canonization process for Mother Rosario Arroyo's sainthood begins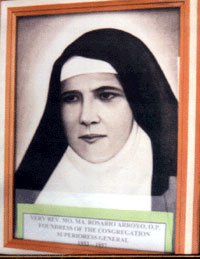 Mother Rosario Arroyo De La Visitacion. O.P
The Cause for the Canonization of Servant of God Mother Rosario Arroyo de la Visitacion, O.P. will be officially opened today, October 7, 2009, at the parish of Molo Church, Iloilo City with a Holy Mass at 9:00 o'clock in the morning officiated by Archbishop Angel N. Lagdameo, D.D. of Jaro concelebrated by other members of the Catholic clergy.
It will be spearheaded by the Congregation of the Dominican Sisters of the Most Holy Rosary of the Philippines (originally Beaterio de Molo) based in Molo. Mother Rosario founded this congregation in 1925.
Mother Rosario died in 1957 as its first Superior General and left the following legacies to the community – deep love for God, strong love for neighbor especially the poor and the needy, ardent love for the Blessed Virgin Mary and leadership by example.
The motto of the Congregation as expressed in its logo is: Laudere, Benedicere, Predicare – interpreted as Praise the Almighty, Bless the Creation of God, Preach the word of God.
True to this motto, the Congregation dedicates itself to the education and formation of the youth and love for the poor by establishing schools and missions not only in the Philippines but also in America, Europe and Africa.
The Cause of Mother Rosario Arroyo was initiated by the Mother Rosario Arroyo Commission (MRAC) headed by former Superior General Visitacion Alecto, O.P.
Later, Rev. Fr. Samson S. Silloriquez, OAR, was constituted as the Postulator who petitioned Archbishop Angel N. Lagdameo to decree the initiation of the Diocesan Process for Mother Rosario's beatification and canonization.
In his petition, Fr. Silloriquez wrote that "in life, Mother Rosario was known and loved by the people around her especially the poor. Both the Sisters as well as the ordinary people invoke her intercession for some divine favors. Many claim for having received what they have asked... the Congregation of Sisters founded by her had also spread her fame of sanctity among the people they serve be in schools, parishes, in retreat houses, as well as in missions."
Subsequently, Archbishop Angelo Amato, SDB, prefect of the Congregation of the Cause of Saints permitted Archbishop Lagdameo to start the Diocesan Process of examining the life of Mother Rosario Arroyo.
Pursuant to this, Archbishop Lagdameo constituted the Diocesan Tribunal for Diocesan Process of the Cause of the Servant of God Mother Rosario Arroyo, O.P. headed by Judge Delegate Msgr. Higinio Velarde, V.G.
On July 28, 2009, Archbishop Lagdameo issued an EDICT declaring that he is initiating the "diocesan process for the Cause of the Canonization of the Servant of God Mother Rosario Arroyo de la Visitacion which will be officially opened on the 7th day of October 2009 at the parish church of St. Anne, Molo, Iloilo City."