Drivers of passenger jeepneys from Sta. Barbara, Iloilo opposed the creation of the Pavia-Iloilo City route as it will affect their income.
The Provincial Legal Officer of Aklan province confirmed that the annual fixed tax embodied in Provincial Tax Ordinance No. 2008-001 could only be imposed on truck, van and any other vehicle used by manufacturers, producers, wholesalers, dealers or retailers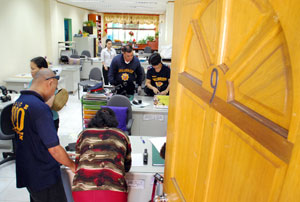 A.CHRIS FERNANDEZ
The Iloilo City Government led by Mayor Jerry Treñas has been officially inducted to the 2009 Palladium Balanced Scorecard (BSC) Hall of Fame as one of the four leaders of business excellence during the Palladium Group's Asia-Pacific (APAC) Summit in Jakarta, Indonesia October 5.