It's official—Third District Rep. Arthur Defensor and First District Board Member Richard Garin will run for governor and vice governor, respectively, in the May 2010 elections.
BACOLOD CITY — The Civil Aviation Authority of the Philippines (CAAP) has issued a memorandum order relieving Bacolod-Silay Airport Manager Antonio Alfonso from his post effective yesterday, October 1, pending the investigation on the missing terminal fee collections of P240,000.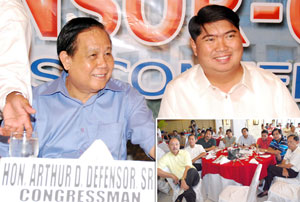 A.CHRIS FERNANDEZ
Supt. Eugenio Espejo, deputy chief of the Iloilo City Police Office (ICPO), yesterday confirmed that one of the two persons found dead along the coastal road recently was a suspect in three sensational crimes in the city.