Officials and employees of the Province of Iloilo and 34 out of its 42 towns are recipients of extra cash gifts found to have been illegally disbursed and irregularly granted.
Eight Iloilo towns are among the "exceptions to the rule" with the illegal extra cash gift issue uncovered by the Commission on Audit (COA). In the First District, the Municipality of Tubungan scored high with the COA for its "zero" illegal cash gift alongside two Second District towns of Leon and San Miguel.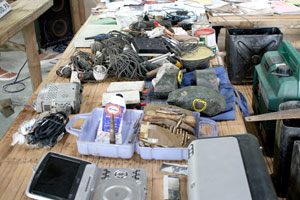 PHIL. ARMY PHOTO
Army troops from the 82nd Infantry Batallion (82IB) recovered three landmines, a bag of dried marijuana leaves, and many other paraphernalia from an abandoned New Peoples Army (NPA) camp in Sitio Tigbasa, Brgy. Tigbanaba, Igbaras, Iloilo last Saturday.