Official request for intervention of both the Senate and the Lower House is underway relative to the mis-events hounding the Iloilo Rehabilitation Center (IRC).
Producing 7.0 metric tons per hectare is very attainable when one uses hybrid seeds. This is proven at the farm of Dir. Larry P. Nacionales during the harvest festival conducted September 9, 2009 at Tagbac Norte, Oton, Iloilo. The director uses PHB71 of the Pioneer Seed Company.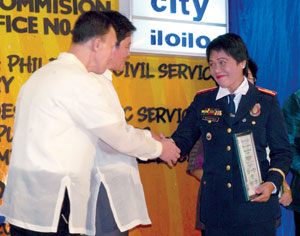 PIA 6/ EJB
Three civil servants from Western Visayas made it to the Civil Service Commission's (CSC) roster of outstanding public officials and employees, to be awarded on September 17 at the Malacañan Palace simultaneous with the highlights of the 109th Philippine Civil Service anniversary celebration.