The first batch of Ilonggo survivors in the SuperFerry 9 tragedy arrived in Iloilo City around 10 a.m. yesterday on board the fastcraft SuperCat 25, a sister vessel of SuperFerry 9, from Bacolod City.
The Iloilo Federation for Information Technology (IFIT) is calling for entries for its Jingle-Making Contest. The Jingle-Making Contest is part of the activities lined up for the Iloilo IT Week 2009 on September 28-30, 2009 at the Fountain Area of Robinson's Place Iloilo, Iloilo City.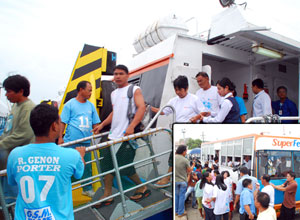 A.CHRIS FERNANDEZ
National Liga ng mga Barangay (LNMB) president Ricojudge "RJ" Echiverri has urged their 42,000 member barangays nationwide to promote flag-raising activities that will enhance awareness of their national identity.