The tungro and rat infestation that hit rice plantations recently will not affect rice production in the region.
Department of Agriculture (DA) 6 director Larry Nacionales in a press conference yesterday said the region is even expected to exceed its rice production target in 2009 by 9 percent.
Employees of the regional office of the Department of Agriculture (DA) are among the first recipients of the agency' nationwide housing project. The housing project will sit on the five hectares government property in the compound of the (Wesviarc)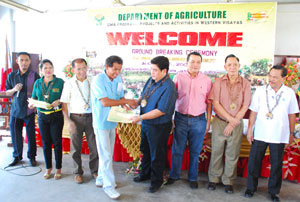 A.CHRIS FERNANDEZ
A long-standing feud between a Bangladeshi and his in-laws resulted to a bloody ending early morning yesterday in Brgy. East Baluarte, Molo, Iloilo City.
The Regional Ecology Center (REC) 6 has urged schools, colleges and universities in Iloilo City to intensify solid waste management activities in their respective institutions and integrate environmental topics in subjects.