A Filipino businessman currently engaged in the nationwide sale, distribution and aggressive marketing of a fuel-saver additive has been "exposed" by former Ilonggo business partners.
Amid the hullabaloo hounding the Arroyo administration over extravagant dinner and costly foreign trips, Ilonggo lawyer Daniel Cartagena said the President could be stopped from further committing extravagant spending in her trips abroad by way of a court petition.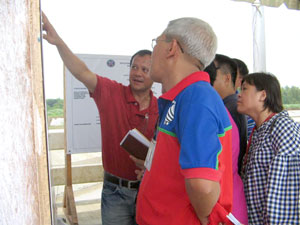 PIA-6/ ESS
The final evaluation for the 21 barangay finalists, plaza and district categories in the Clean and Green competition starts today. The judges composed of heads of civic and professional clubs will have a round in the barangays and selected public facilities including public plaza.
The group of judges will start their evaluation at the three barangays in Arevalo district. Barangays Sto. Domingo, Sta. Cruz and Dulonan are this year's finalists.