Work faster. If possible, work 24/7. Such were the orders of President Gloria Macapagal Arroyo who was in town yesterday to check on vital infrastructure works in the Second District of Iloilo.
Department of Public Works and Highways (DPWH) 6 Regional Director Rolando Asis said the dredging of the Dungon Creek will be implemented in stages after the city government has yet to fully relocate the families living along the creek.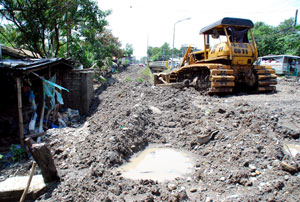 A.CHRIS FERNANDEZ
Iloilo City Urban Poor Affairs Office (ICUPAO) head Roni Firmeza said the City Engineers Office (CEO) is working fast to finish the construction of transit houses for families affected by the dredging of Dungon Creek. Firmeza said the construction of transit houses for some 40 families is expected to finish in 10 days time.