It seems the recent distribution of emergency food assistance in Barangay Sooc, Arevalo was tainted with politics. Only residents with voters' identification (ID) cards were allegedly given the chance to avail of the assistance.
The newly organized 82nd (Bantay-Laya) Infantry Battalion (82IB) has already completed six weeks of intensive training in preparation for their eventual deployment in southern and eastern Panay.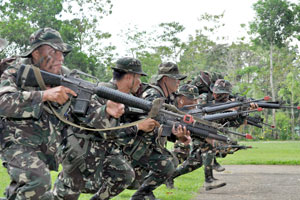 PHOTO COURTESY OF ARNOLD ALMACEN THROUGH 3ID, PA
The Iloilo city government failed to comply with the requirements set by the National Meat Inspection Service (NMIS) for its "double A" abattoir in Brgy. Tacas, Jaro. Such failure has prevented local meat producers from shipping their products to other parts of the country.