Massive evacuation was effected in three barangays of Tubungan, Iloilo following Saturday evening's landslide and mudflows.
BACOLOD CITY -- Mayor Evelio Leonardia yesterday defended his position to enter into a loan agreement with the Philippine National Bank (PNB) amounting to P150 million for the acquisition of new relocation site situated in Purok Arao, Brgy. Vista Alegre, Bacolod City.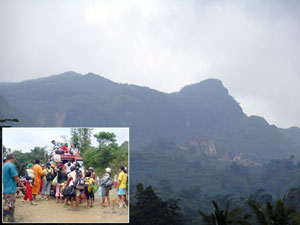 PHOTOS COURTESY OF BOMBO RADYO ILOILO
At least 21 metro cops here were commended for apprehending the suspects of three separate robbery incidents in the City Proper and Jaro districts last July. Mayor Jerry P. Treñas presented the plaques of commendation to the police personnel for the successful conduct of operation and a highly commendable professional dedication to crime solution efforts.