President Arroyo yesterday assured the family of a former Overseas Filipino Worker (OFW) who was maltreated in Singapore that they will have justice.
As local and regional officials wait for the Senate to pass the P8 billion Paglaum Bill that would fund rehabilitation projects around Region VI, residents of several barangays in Guimbal town took it upon themselves and built their own bridge.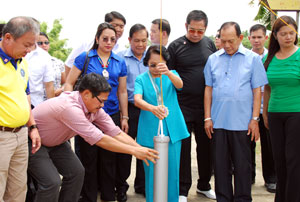 A. CHRIS FERNANDEZ
Three committees of the Iloilo Sanggunian Panlalawigan (SP) concluded its joint legislative probe on issues against Iloilo Rehabilitation Center (IRC) management. With the Committee on Health as lead, the Committee on Public Order and Security and Committee on Appropriations summed up its findings in four major recommendations.