Militant activists and other groups opposing moves to amend the Constitution staged a two day Panay-wide march to coincide with President Arroyo's State of Nation Address yesterday.
Out of the more than 400 informal settlers affected by the dredging work, only 57 houses or households have been relocated to the San Isidro, Jaro relocation site.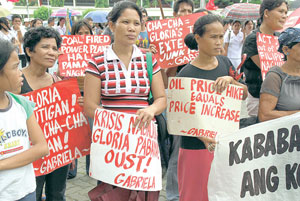 A. CHRIS FERNANDEZ
Fresh from yesterday's State Of the Nation Address (SONA), President Gloria Macapagal Arroyo is coming in today to check on multi-million Iloilo road works.