ILECO III crisis team in crisis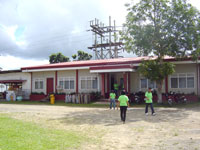 SARA, ILOILO – A crisis within a crisis.
Such is the current state of the Iloilo Electric Cooperative (ILECO) III Crisis Management Team (CMT) as a top official of the Board now refused to co-sign disbursement vouchers and checks.
In fact, the week opened with 19 vouchers and checks left untouched thus placing Dory Jane Canones, Finance Services Department manager, in a dilemma. Yet another aftershock to the many aftershocks of the ILECO III fray, the refusal to co-sign came from ILECO III Board Treasurer Emmanuel Pacardo.
Pacardo in a note received by Canones explained that his refusal was anchored on Board Resolution No. 22 that appointed a new officer-in-charge vis-a-vis general manager. Further still, the Resolution abolished the existing CMT.
The News Today (TNT) learned that an attempt to come up with an acceptable compromise was made and offered stipulating Pacardo's supposed agreement to co-sign of vouchers will show the name of the new general manager. Yet for Canones, "status quo" was the name of the game pending final word of the National Electrification Administration (NEA).
Concerned though that the daily operations of the cooperative will be hampered, Board President Mateo Baldoza Jr. came in to resolve the situation.
Baldoza after meeting with Canones agreed to co-sign, an act well within his powers as president.
ILECO III for weeks now is embroiled in an in-house battle following the highly-controversial Power Supply Agreement (PSA) with Applied Research Technologies Philippines (Artech).
First alarm signals went off with Baldoza revealing bribe money offered to him in one Artech meeting held at the house of Iloilo Governor Niel Tupas.
Baldoza first pointed to Tupas as the giver then later on backtracked and clarified that it was someone else and not the governor himself.
"I am not a bribe-taker… I am a whistle-blower," Baldoza said in a rare interview granted to select group of reporters. This, as he stressed his firm resolve to stick on what is upright on the dealings of ILECO III. "Let the record show on my credibility. I was the one who drafted the Code of Discipline and Ethics of the cooperative… I serve in Church."