PURR
The romance of Filipino Art Deco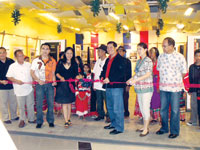 The ribbon cutting with Ben Jimena,
Councilor Lex Tupas, Dr. Kristin Trenas,
Vice Mayor Jed Mabilog, Kristine Yap
and DOT 6's Edwin Trompeta.
The romance of Filipino Art Deco, by Manuel Maximo Lopez del Costitta-Noche was presented to the public during the Owning Heritage Art Deco exhibit held at SM City Iloilo recently.
Deco architectures in different cities of the country were displayed. The ones from Iloilo were the Jaro Municipal Hall, Banco Nacional del Filipinas, Cemeterio Catolico de Molo, Pablo Dulalia Building, S. Villanueva Building, Salvador Building and the Iloilo Public Market.
Purr learned that the country, during the turn of the 20th century, was a hotbed of architectural innovation and adaptation. "The country embraced mostly European and later, American forms of architecture," stated the poster at the exhibit venue.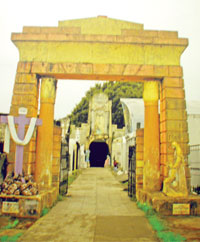 Cemeterio Catolico de Molo.
"The utilitarian form emerged with a rich and expressive decorative style that is described as both traditional and innovative," it further stated.
The event was part of the celebration of the Cultural Month by the Iloilo City Heritage Conservation Council.