Here's one for the books. A group of men banding as protectors of women's rights have come out to issue an official statement condemning the upload, download and sale of sex videos.
The Department of Health (DOH) regional office 6 said yesterday that the Research Institute for Tropical Medicine has cleared a 51-year-old male from Iloilo of the Influenza A H1N1 virus.
ROXAS CITY – Murders charges had been filed yesterday morning against three big time personalities who are suspects in the killing of Art Cruz political officer of 1st District Cong. Antonio del Rosario.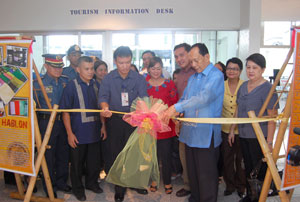 A.CHRIS FERNANDEZ
BACOLOD CITY -- League of Cities of the Philippines (LCP) vice chairman Mayor Evelio Leonardia of Bacolod City appeals for the understanding of the public amid the media blitz being undertaken by the 16 new cities which returned to municipal status following the ruling of the Supreme Court (SC).
Leonardia said the officials of the said municipalities have resorted to emotional approach by saying that many salaries will be affected because of the latest Supreme Court decision.