Bacolod SP repeals controversial revenue ordinance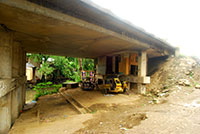 This multi-million bridge serves as roof
of a shanty in Brgy. Taft North,
Mandurriao, Iloilo City.
BACOLOD CITY -- The Sangguniang Panglungsod has junked the controversial City Ordinance 474 or the Revised Revenue Code of 2009 which increased the taxes imposed on business establishments.
Only City Councilor Catalino Alisbo abstained when the voting for the repeal of the ordinance was made. He justified that he also abstained when Ordinance 474 was passed.
Councilor Wilson Gamboa Jr., who earlier objected to the passing of the ordinance, said he was very happy that at least his contention since the ordinance was deliberated has been granted.
He recalled that he opposed the passage of the Revised Revenue Code because of the economic crisis suffered by our country especially the business sector.
Metro Bacolod Chamber of Commerce and Industry Vice-President Boy Zayco said it was good since the city has ears to their concern.
He stressed that it is a very good start for the city and various stakeholders to sit for round-table-discussion to come up with a win-win solution on the issue.
"It is not that we are not for the increase, we are but it must be reasonable and fair also to everybody," Zayco added.
Recently, the Department of Justice declared the controversial ordinance illegal for non-compliance with the prescribed procedures in the enactment of a tax ordinance under the Local Government Code and its implementing guidelines.
The ruling was an offshoot of the complaint filed by the SM Group of Companies against the implementation of City Ordinance 474.
The SM Group of Companies was questioning the constitutionality and legality of the Revised Revenue Code of Bacolod City (C.O. 474).
They claimed that C.O. 474 was passed without complying with the requirement of publication, written notice, and the benefit of public hearing and that under Section 191 of R.A. 7160, any adjustment in the rates of taxes should not exceed 10 percent of the rates fixed under the Code.
The city government filed a motion to dismiss after an ordinance of deferment on the implementation of the questioned tax ordinance was granted by the sanggunian as per request by Mayor Evelio Leonardia.
But SM argued that it should not be dismissed since the ordinance can be executable anytime since it was neither lifted nor repealed.
City Councilor Dindo Ramos proposed to repeal the controversial ordinance.