Local officials set contingency plans vs entry of H1N1 flu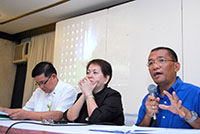 From left: Department of Health regional
director Dr. Ariel Valencia, Philippine
Information Agency Visayas head Atty.
Janet Mesa and Department of
Agriculture regional director Larry
Nacionales interact with members of the
media during a press briefing on H1N1
virus at Amigo Hotel yesterday.
International airports and ports are being closely monitored on Panay Island as health officials and local government units step up efforts to prevent the entry of the H1N1 virus.
The Department of Health (DOH) is screening passengers and crew of ships from other countries docking at the Iloilo international port in Barangay Loboc in La Paz District.
Dr. Lino Gregorio, chief of the Bureau of Quarantine of the Department of Health in Western Visayas, said the they will also monitor passengers from other countries arriving at the Kalibo airport in Aklan. Gregorio said that starting Wednesday they will use thermal strips to test passengers of bi-weekly flights from Tapei to Kalibo.
The local government of Kalibo has requested for the installation of a thermal scanner at the airport but Gregorio said this is not physically feasible because of the open area at the facility which would affect the sensors of the scanner.
Dr. Ariel Valencia, DOH Officer-In-Charge in Western Visayas, said they have activated measures and plans to respond to any possible infection after the World Health Organization issued a warning of a pandemic.
In a press briefing on Tuesday, Valencia called for sobriety even as he urged vigilance in monitoring those with flu symptoms who came from countries were there were confirmed cases of infection.
During the briefing, the DOH, Philippine Information Agency and journalists agreed to come up with guidelines on covering and reporting osn the issue to avoid misinformation that could trigger panic and to ensure that the privacy of persons suspected to be infected with the virus will be protected.
Iloilo Gov. Niel Tupas Sr. and Iloilo City Mayor Jerry Treñas on Monday led a special meeting to coordinate contingency plans in the city and province.
Tupas said they will adopt the protocol defined during the Severe Acute Respiratory Syndrome (SARS) outbreak.
Treñas said the city government has organized an inter-agency task force to focus on preparation and response in case the virus infects city residents.
He said the main focus is a massive information campaign to educate residents on the virus and prevention of contamination.