Ainiki turns 1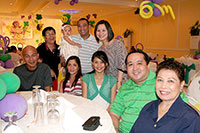 (Standing) Vivian de Guzman, Ainiki,
Fred and Joan Acevedo (Sitting)
BongBong, Shiela & Kai-Kai de Guzman
and Niel & Vielma Almonguera
Ainiki Felice V. Acevedo turned one last March 14. Her parents, Frederick and Joan Acevedo, prepared a Barney "Super-Dee-Duper" Party at Hercor Pavilion, Roxas City, Capiz. It was attended by family and friends from Roxas and Iloilo.
The Pavilion was decorated with yellow, purple and green balloons courtesy of Archie Fernandez of Che` Balloons and Decors. Kids were entertained by Mr. Clown's magic tricks and fun games with the appearance of "Barney" as a special guest. Guests enjoyed the sumptuous food and the three-layered cake that were specially chosen by the celebrator's mom. Loot bags full of candies from the US courtesy of Ainiki's maternal grandparents and Barney stuff toys from Ainiki's aunt, Pamela A. Go were distributed to all kids.(MJA)