Ilonggo war veterans grateful of US Amb. Kenney's visit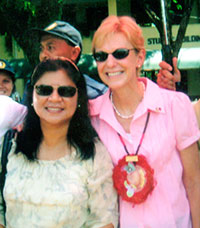 Tonette Toledo, host of cable television
talk show "Talking Point", poses with
US Ambassador Kristie Kenney during
the latter's visit to Jaro National High
School recently.
Engr. Rodolfo Lataquin, president of the 6th Military District WWII Veterans Association Inc. was grateful that US Ambassador Kristie Kenney took time to meet them and see the exhibit on "World War II on Panay Island" recently.
Lataquin said Kenney's visit on the exhibit only shows how concerned she is on the plight of the Filipino war veterans.
The "World War II on Panay Island" exhibit staged in SM City Iloilo was organized by Manila Broadcasting Company – Aksyon Radyo Iloilo and the 6th Military District WWII Veterans Association Inc. in commemoration of the 64th Liberation Day in Panay, Romblon and Guimaras.
The exhibit showed photographs mounted on tarpaulin panels depicting the war on Panay island from December 18, 1941 to March 20, 1945.
In an interview with reporters, Kenney said she has the heart for veterans since her grandfather and father were both veterans who fought on World War I and World War II, respectively.
Kenney said she was happy with the recent passing of the American Recovery and Reinvestment Act which provides for the official recognition of services rendered by Filipino World War II veterans to the US government.
The US Department of Veterans Affairs will pay around US$198 million to around 18,000 who will each receive a one-time payment of $9,000 or $15,000 (for veterans who are US citizens).
The United States government will start deciding on claims for benefits of Filipino World War II veterans by April, US Ambassador Kenney said.
Kenney visited Iloilo City on March 24, 2009 to check on a US Peace Corps volunteer work on education.
The ambassador also visited Pavia town where she inspected rehabilitation efforts on communities ravaged by typhoon Frank last year.
Pavia was among the worst hit in the flooding, considered the worst experienced in Western Visayas.
Kenney told reporters she was impressed with the speed of the recovery and rehabilitation.
The ambassador then visited the American business process outsourcing company Teletech, one of the largest call centers in the country, which employs 1,600 employees in its Iloilo site alone.