City police director, Sr. Supt. Melvin Mongcal is recommending a posthumous award for the late SPO3 Rafael Managuit, who was killed when a grenade he had recovered earlier exploded inside a police sub-station.
Authorities on Boracay Island will launch a clean up of moss (green algae) on the island-resort's waters which have caught the attention of President Macapagal-Arroyo. Undersecretary Virtus Gil, secretary of the Boracay Eminent Persons Group and island administrator.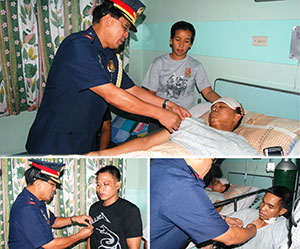 A.CHRIS FERNANDEZ
A soldier was killed while two others were wounded when Army troops clashed with New People's Army rebels in Capiz Tuesday.