Car owners, drivers warned vs 'basag kotse' group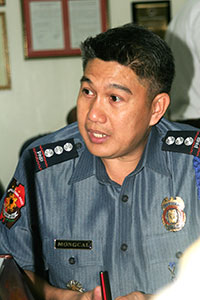 Mongcal
Iloilo City Police Office (ICPO) director Senior Supt. Melvin Mongcal warned car owners and drivers not to leave their valuables unattended inside their vehicles.
In an interview with government radio station dyLL Radyo ng Bayan, Mongcal said a "basag kotse" gang is currently on the loose preying on vulnerable targets.
Mongcal disclosed that two robbery incidents believed to be perpetrated by the "basag kotse" group were already reported in Iloilo City.
Based on the report, the first "basag kotse" incident occurred on January 19 at the car park of a mall. Victims Florence Tran and an Australian national Peter Neyenuis lost two units of laptop computer, two mobile phones, digital camera and their passports inside their car.
Another incident transpired in the same place on February 27 where victim Rowena Paderes reported that her laptop, cellphones, i-pod and wrist watches she left inside her car were lost.
The police report said, in both instances the perpetrators took the valuables by breaking the glass windows of the vehicles.
Mongcal said he closely monitors the investigation on both cases for possible identification and arrest of the suspects.
He also called on the security guards deployed in the parking areas of establishments to be extra vigilant in looking after suspicious persons wandering in their areas.
Meantime, the Iloilo City top cop appeals to the public, especially car owners or drivers, to take precautionary measures against robbers and other criminals roaming the city.
"We should not leave our valuables unattended," he said. (With reports from PO3 F.B. Lindero)