Biz group alarmed over Boracay erosion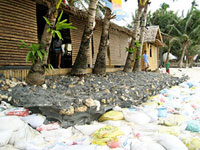 Resorts on Boracay Island put up
breakwaters made of sandbags to stop
the erosion of the beach which is blamed
on illegal structures.
CONTRIBUTED PHOTOS
A business group on Boracay Island has raised alarm over the erosion of part of the island's famous white beach.
In a letter to Environment Secretary Jose "Lito" Atienza dated Feb. 25, the Philippine Chamber of Commerce and Industry (PCCI)-Boracay, called on the Department of Environment and Natural Resources (DENR) to help address the erosion especially along the Diniwid Beach, at the northern end of the 1,032-hectare island-resort.
The erosion has reached several meters, according to the letter signed by PCCI-Boracay Vice President Peter Brugger.
"Whole areas of northern Diniwid beach are not accessible anymore, particularly at high tide when the water is two meters deep due to the abrupt drop of the beach..." said Brugger in the letter.
Brugger said some establishments have started building walls using sandbags and brought in boulders to stop the erosion.
"This move could alter Diniwid beach forever and make erosion worse," he said.
The group said the erosion has been aggravated by continued violations of building laws and ordinances.
It said many structures along the beach have been constructed on no-build zones or marine reserves, along set backs. Others have no building or mayor's permits to operate their business.
"These violations aggravate the erosion, which changes the once attractive Diniwid beach," said Brugger.
Erosion is among the major environmental concerns in Boracay identified by the DENR in its environmental master plan for the island.
It blames the worsening environmental threats to development projects that have violated existing laws, policies and ordinances. These include the erection of resorts and tourism facilities along the easement areas, hampering of public access, destruction of the natural beauty of the coasts, indiscriminate development of areas, illegal reclamation of wetlands and clearing of forested areas for building construction.
A contentious issue is the clearing of easements along the beach.
"Many property claimants and resort owners have practically engulfed a part of the land outside of the confines of their ownership in order to maximize their respective areas for operation. A few of these claims are even wholly within the easement, or, while remaining unfenced or uncemented, are utilized as additional areas of business operations," according to the DENR environmental master plan.
An inventory conducted by the agency showed that at least 177 establishments are within the easement area (25 meter easement plus 5 meter board walk). These include permanent structures constructed at the beach.
The illegal structures should be demolished by the local government unit, according to the DENR.
But a main hindrance in the clearing of easements is the dispute in the standard on how and by how much is the easement measured. Several resort owners have filed cases to stop the demolition of parts of their properties by government agencies.