Ong, City DILG clarify, assure brgy dads' role in battle vs drugs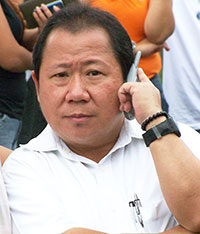 Ong.
Campaign against illegal drug trade and proliferation throughout Iloilo City remains a priority of the barangay officials. Yet there are parameters and limits to said campaign, the Department of Interior and Local Government (DILG) reminded.
As such, meager resources and all, anti-drug advocacy continues in the city's 180 barangays on what has been mandated, must be a "unified action" against illegal drugs and other substances.
One government move that got the full backing of Iloilo City Councilor Irene Ong, president of the Association of Barangay Captains (ABC) and ex-officio member of the Iloilo City Council.
Ong made the statement in a press conference yesterday following criticisms that barangay officials have been remiss in this aspect of their duties. Of late, questions were further raised on the extent of the role and participation of the barangay in the government's battle against illegal drugs.
Ong was joined in the press conference by DILG City Director John Ace Azarcon.
"We acknowledge that the barangay has a big role to play in this campaign," Ong began. "However our functions are limited only to providing information, coordination, support and possible rehabilitation of drug dependents. This is very clear in Section 51 – 53 of Republic Act of 9165 and in Department of Interior and Local Government (DILG) Memorandum Circular No. 2009-09."
All seven ABC district presidents in a recent meeting with DILG city director John Ace Azarcon laid down the parameters of said barangay's responsibilities.
The law is clear, Azarcon said, on the extent of barangay powers which limits the barangay officials and prohibits drug busts vis a vis arrests on "on their own."
To note, the "drug scenario" of the city was made subject of Friday's congressional probe alongside controversial drug cases in the province."
Azarcon said "basically, the anti-drug campaign in the barangay is more on educational campaign, the advocacy points down to providing of information and education of anti-drug abuse programs...kung basehan ang legal basis, makahambal kita nga "generally limited"..and "arrest powers" are not specifically mentioned though it is common knowledge ang citizen arrest….."
DILG Memorandum Circular No. 2009 – 09 was issued to all provincial governors, city and municipal mayors, barangay officials and sanggunian bayan, sanggunian panlalawigan members. It emphasized to local authorities "principal responsibilities" in support of overall government efforts to address illegal drugs.
In fact, the mayors are ordered to ensure that all barangay captains shall perform responsibilities as specified. Anything beyond is thus far prohibited.
"On behalf of the punong barangays of Iloilo City, we would like to assure the public that we are all trying to do our best to campaign against not only drug abuse but other illegal activities. And these, despite our limited resources we are committed in order to maintain peace and order in our barangays in general," Ong ended.
The Philippine Drug Enforcement Agency (PDEA) in a report identified at least 10 out of 180 city barangays as affected by illegal drugs. Ong admitted hesitation on the part of barangay officials particularly on legal matters.