Bacolod's legal counsel dies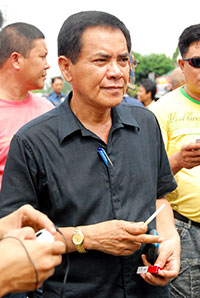 Zamora.
BACOLOD CITY -- City Legal Officer Atty. Allan Zamora died of heart attack yesterday morning after attending a court hearing in Bago City.
Witnesses said Zamora was rushed to the Bago City District Hospital but physicians failed to revive him.
He appeared as defense counsel in a criminal case in the sala of Regional Trial Court Judge Frances Guanzon.
Hospital personnel immediately informed Mayor Evelio Leonardia and other city officials of Atty. Zamora's demise.
In a statement, Leonardia, who was in Manila yesterday, said "Atty. Zamora's sudden demise is a tragic loss not only to the City Government but the whole of Bacolod City as he was a brilliant lawyer who had the heart of the champion."
Atty. Zamora passed away at the age of 57.
"He was a very valuable public servant, and it would be difficult to find anyone who will fill in his shoes," the Mayor added.
Leonardia considered Atty. Zamora as a gentle, courteous and honest friend not only to him but to many others.
Zamora first served the City Government as City Administrator in 1986 during the administration of Former Mayor Amado Parreño.
On January 27, 2000, he was appointed by former Mayor Oscar Verdeflor as City Legal Officer wherein he became the most controversial city lawyer because of his remarkable moves when he padlocked a radio station in the city, demolition of Brgy. 12 residents, and the closure of Central Negros Electric Cooperative (Ceneco) and other sensitive issues surrounding the leadership of former Mayor Verdeflor.
Zamora left his office as City Legal Officer on February 28, 2001 when Former Mayor Verdeflor lost his quo warranto case filed by Former Mayor Luzviminda Valdez who eventually replaced him.
Zamora was re-appointed as City Legal Officer when Mayor Leonardia returned as mayor in 2004.
"Though we are bidding him goodbye, he has left an indelible mark in the City Government and for that he will live on in the hearts and minds of his friends and colleagues," Leonardia said.
"We also thank him for all the years of quality service that he had rendered to Bacolod City," Leonardia added.
Atty. Zamora is survived by his wife Ruth and Children Rulan Acero, Allyn Rose, Allan Jr., Allyn Luv, Zoe Anne, Cheryl Katherine and Allan III.
Leonardia signed yesterday an Executive Order urging all City Government offices flags to be flown at half mast.