Even as companies abroad continue to lay off workers and even close shop, the country's Business Process Outsourcing (BPO) industry is faring well.
"With rescission comes the pressure on companies to reduce the cost, and they look for opportunities to outsource business that they are doing in high cost countries like the US, Australia, UK, Canada, New Zealand.
Sharon Caceres-Acusta worked as a secretary in Brunei in 2006 where she earned a higher salary compared to her counterparts here.
But after two years, she decided on coming home to be with her daughter even if she was sure that she would have been given a raise and more benefits if she stayed longer.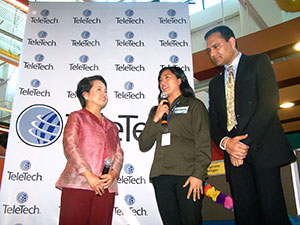 RONILO L. PAMONAG
BACOLOD CITY – Regional Trial Court (RTC) Branch 42 Presiding Judge Fernando Elumba has granted the Writ of Preliminary Injunction prayed by Bacolod Real Estate Development Corporation (Bredco) against the implementation of City Ordinance 454 series of 2007.
The countdown begins for the installation of soon-to-be mayor (anew) of Calinog, Iloilo. Or so it is for his camp following the Writ of Execution filed as last stumbling block to said return in public office.