Engineer defends Iloilo Boulevard project design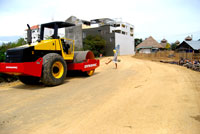 A portion of the Iloilo Boulevard
connecting Brgy. Tabucan and
Diversion Road.
Iloilo Flood Control Project in-charge Engr. Al Fruto defended the project design of the Iloilo Boulevard connecting Brgy. Tabucan, Mandurrio and the Diversion Road.
Engr. Fruto said they intended to observe the one meter shoulder space from the approach of the Benigno Aquino Bridge for safety reasons.
He said the same is observed with regard to Carpenters bridge in Barangay Tabucan and in Forbes Bridge in La Paz district.
Fruto denied allegations that they favored certain business owners in the final conceptualization of the Iloilo Boulevard.
The construction of the three-kilometer road network was included in the stage 1 package 2 of the Iloilo Flood Control Project. Fruto, however, said he is not sure of the exact amount of the entire project intended under the package 2.
Fruto clarified that originally, the plan only detailed the construction of a 4-meter dike from Mandurriao to Lapaz. However, Mayor Jerry Treñas asked to widen the dike to 8-meters as protection for flood. Later, it was decided to construct a road network from Mandurriao to Lapaz as alternative route for the busy General Luna Street.
Meanwhile, Fruto said the government will require property owners affected by the Iloilo Boulevard project to submit required documents before any compensation is made.
He said they have designed two compensation packages for property owners prior to the release of any compensation. The two packages are for the property affected by the project and for the improvement of the property.