TWILIGHTS
Birthday Bash with Closer to the Heart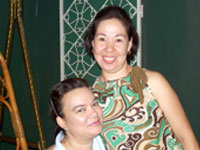 Your Twilighter Mini with always smiling
Medeline Cruz.
It was a simple celebration for celebrant Tita Joy Javellana-Cruz who had lived for decades in the United States with hubby Nicolas Cruz. Today they have found their retirement place in Bago City in one quiet home and living a simple life.
Buying a house in simple sleeping city of Bago, the couple, all by themselves, opted to live a simple moments of their lives and invited friends and closer people to celebrate with a simple menu list of juicy pork barbeque, empanada, panara, fruit salad, long-life bihon and pancit lomi to match along with San Mig Light beer for the guys and juices for the rest.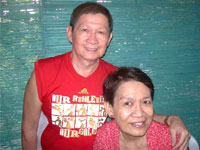 Sweet U.S. Balikbayan couple - Nick
and Joy Cruz.
It was a fun afternoon as the birthday lady prepared trivia games for her closer friends who had to make guesses on their answers to Tita Joy's questions.