Welcome Home, Sisters!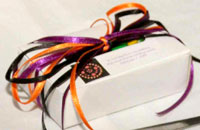 Chocolate goodness for everyone!.
Every year, the Maryville Hall of St. Scholastica's Academy-Bacolod hosts a ritual that coincides with the school's celebration of St. Scholastica's feast day. The ritual is a luncheon hosted by the following year's silver jubilarians, and in this event, a turnover ceremony takes place, whereby this year's silver jubilarians pass the baton to the next batch with the promise to guide them in their one year preparation to celebrate their 25th year.
Last February 7, SSA Batch 85 hosted the luncheon, they being next year's silver jubilarians. The alumnae of Batch 84 were the special guests, they being this year's silver gals. But the affair doesn't only have two batches as guests. This year, Ruby Jubilarians (Batch 69), and Sapphire Jubilarians (Batch 64) were honored as well. Making this into one big party was the presence of various alumnae from 1964 to 2004, some coming in from other parts of the globe. Indeed, it was one big reunion and they were all excited to come home to SSA! Aptly titled, "Celebrate the Moment", everyone was surely in the mood to celebrate.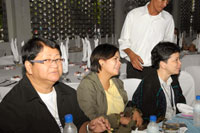 SSA Teachers Mesdames Li, Alarcon, and Lopez.
Everyone looked forward to Tita Puring Tison's sumptuous menu. Of course, lechon was a favorite among the alumnae, together with the rest of the mouth-watering dishes. Not to be missed out was the box of chocolate cake beside each table's centerpiece (yummy!), and beside each goblet was a tiny box of chocolate candy (how fitting for Valentine's day!). Over at the presidential table, the Benedictine sisters and teachers of SSA were having as much fun as the alumnae. Lunch started while a raffle was going on, after which, the dancing came! Virgie Lopue, Tima Lacson, and the Batch 69 alumnae donned their colorful attires and brought us back to the "Make Love Not War" era. Everyone had a great time watching the three jubilarians show their dance moves. But no one was outshined because they all looked fabulous and most importantly, everyone had a good time. Finally, the turnover ceremonies came, with the lighting of candles witnessed by Sr. Rebecca Maglalang, OSB, Directress of SSA-B.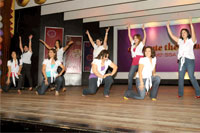 A dancer is always a dancer …..can't you tell.
The laughter and chattering were endless, as sisters bonded and friendships were re-kindled. It was a great day to come home to the red-tiled corridors of SSA, and to be greeted by friendly and familiar faces that looked forever young as the years passed! Way to go, "Koolasas"….and Welcome Home!