Elderly couple charred, 40 houses gutted in Bakhaw fire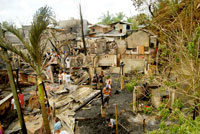 fire site - wide shot.
An elderly couple were charred to death inside their house after a fire broke out at dawn yesterday in Zone 2 Brgy. Bakhaw, Mandurriao district, Iloilo City. City Social Welfare and Development Office (CSWDO) data showed that a total of 40 houses were totally burned while 10 were partially damaged by fire.
The fatalities identified as Romeo Hisog, 80, and his wife Filomena, 78, were unable to flee their home when the fire started around 4:15 a.m. Their charred skeletons were discovered after the clearing operations conducted by the responding fire fighters.
The fire also injured firefighter SFO1 Jessie Arquisola. He suffered lacerated wound while helping put out the fire.
According to Inspector Rodolfo Denaga, chief of the City Bureau of Fire and Protection, initial investigation showed that the fire could have been caused by a lighted candle from the house of the Hisog couple.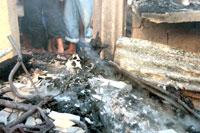 skull - tabares.
Denaga said they received information that the couple is occupying the sala of their house. The older woman has a sight defect. She always put on the light every night to illuminate her way to the restroom.
Denaga said a brownout occurred the night before the fire incident. Probers theorized the couple used a lighted candle to illuminate their house. Though, arson investigators are also looking at information shared by the family of the casualties that the fire emanated from a lamppost near their house.
With the fire bureau's initial report, the Police Regional Office 6 has reportedly ordered the Mandurriao police station to conduct a separate investigation.
The more than 70 families whose houses were gutted by fire are temporarily occupying the barangay hall and day care center.
Social Welfare officer Clarita Dignadice reported that the fire victims were provided with used clothing and food assistance such as rice, noodles and sardines.
The city government is also contemplating to give financial assistance to the fire victims specifically on the Hisog family. City officials are still checking on the availability of funds.
Meanwhile, City Mayor Jerry P. Treñas said the city has already extended 10 sacks of rice, 15 boxes of noodles, three boxes of sardines, 15 pieces water containers and used clothing to fire victims.
An additional supply of sardines will be purchased as the City Social Welfare and Development Office (CSWDO), according to the mayor.
The Federation of Filipino-Chinese Chamber of Commerce in Panay donated P30,000 for the purchase of blankets, mats and medicines.
The Association of Barangay Captains (ABC) through Liga President Irene Ong also donated bottle of mineral waters and used clothing while the office of Iloilo City lone district will give sacks of rice and used clothing. (With reports from PNA)