Korean medical mission assist 2,000 Bacolod residents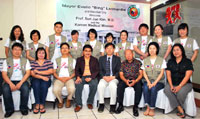 Mayor Evelio Leonardia (center) with the
Korean Medical Mission led by Prof. Sun
Jun Kim, M.D. (seated beside Leonardia,
left side). Also in photo are City Health
Officer Salome Binas (seated, second
from left), Councilor Napoleon Cordova
(seated, third from right) and Executive
Assistant Edwina Javier (seated,
extreme right).
BACOLOD CITY -- At least 2,000 residents from Barangays Cabug and Banago were able to avail of free medical services and medicine from the Korean group composed of two surgeons and 12 medical students who conducted a medical mission in the city recently.
The medical mission, led by Prof. Sun Jun Kim, M.D., came from Jeonju City in South Korea. The group conducted medical consultations, performed minor surgeries and gave free medicine to Cabug and Banago residents.
Mayor Evelio Leonardia expressed the city's gratitude to the group saying the City Government truly appreciate the medical missions conducted in the city as a lot of people benefit from it.
Leonardia hosted an appreciation dinner for the group which was also attended by Councilor Napoleon Cordova, City Health Officer Dr. Salome Biñas and Executive Assistant Edwina Javier.