City Mayor Jerry Treñas yesterday assured the security of guests and revelers this Saturday and Sunday, highlights of the 2009 Dinagyang Festival, as hundreds of uniformed and plainclothes policemen are deployed on the streets particularly on parade routes and performance areas.
Ilonggos yesterday feasted on the largest ever cooked bowl of Iloilo City's famed La Paz batchoy in a bid for a world record.
Around 1,000 residents and guests flocked to the La Paz District plaza where a giant stainless steel bowl was set up to cook the savory noodle dish.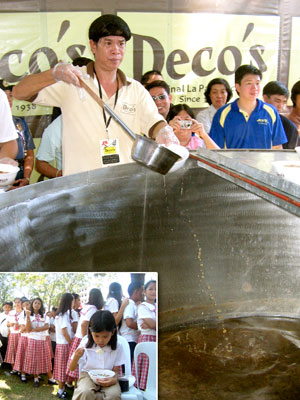 Ronilo L. Pamonag / NESTOR P. BURGOS JR
Dinagyang of today is Iloilo's biggest festival, the mother of all festivals for the 42 towns, one component city and Iloilo City itself.