City readies over 1,000 cops for Dinagyang celeb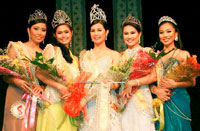 The winners in this year's Miss
Dinagyang beauty pageant, from left,
3rd Runner Up Marie June Bebing,
1st Runner Up Stephanie Juanitas,
Miss Dinagyang 2009 Natalie Grace
Roberts, 2nd Runner Up Sheryl Maye
Manalo and 4th Runner Up Ruby
Claire Lopez
A total of 1,022 men and women of the Philippine National Police (PNP) will be stationed in various points of the city to ensure peace and order in the two-day Dinagyang highlights.
With expected influx of local and international tourists here, The News Today (TNT) in a report gathered of a thorough security plan as per order of Mayor Jerry Treñas.
Related update from Bombo Radyo Iloilo got the confirmation from Police Superintendent Eugenio Espejo of the Iloilo City Police Office (ICPO).
Superintendent Espejo said that operatives from the Iloilo Provincial Police Office (IPPO), the Regional Mobile Group (RMG) and forces from Police Regional Office (PRO) 6 headquarters in Camp Delgado will form part the entire Dinagyang force.
Areas of priority are staging areas of the Dinagyang competition primarily the Iloilo Freedom Grandstand where dignitaries are expected to stay.
TNT also learned that police checkpoints to and from the city will be conducted in the duration of the festivities. And as in past celebrations, police security will also see involvement of plainclothesmen, the military and the entire intelligence community.
A similar alert too with the Philippine Coast Guard Iloilo (PCG) Iloilo.
In an interview with Bombo Radyo Iloilo, Commander Harold Harder said PCG Iloilo will deploy PCG agents with bomb-sniffing dogs.
Commander Harder said monitoring will be strengthened particularly in the City Proper area alongside a widened alert on the city's ports.
Illegal drug trade is one of the security concerns with a close watch made for weeks now in various Iloilo ports.