PURR
Nothing but desserts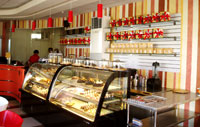 Wide array of desserts.
I had too much of what you call the pre-Christmas gastronomic experience, with groups holding parties here and there. I was praying for a break.
But there are just some things you can't resist no matter what and the only way to feel better is to just yield to it. And when you do yield to it, you're glad you did.
Case in point is a visit to this cool restaurant that offers nothing but desserts. Aptly called "Nothing But Desserts," this place at The Avenue is a haven of signature desserts prepared intricately as if they are a work of art.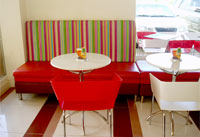 Colorful sofas and chairs.
According to Miner del Mundo, food consultant of Nothing But Desserts and other popular restaurants at The Avenue (Mojave, Bauhinia, Amalfi and Coffee Break), this restaurant is one-of-a-kind. It's a first for Iloilo to have a European, specifically French-inspired selection of desserts. In Manila, only five star hotels offer such.
Nothing But Desserts offers mousses, cake slices and verrines. Verrines are considered "luxury in a glass." A verrine is an appetizer or dessert that consists of a number of components layered artfully in a small glass. They are mostly chilled, a common presentation in France.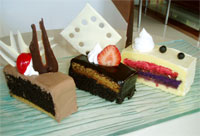 Penance, Chocolate Decadence and
Osone.
There's Crocanti, too. They are chocolate clusters made of Belgian chocolates and nuts like macadamia, pecan, walnuts and almonds. I had my share of the Belgian Milk and I can't help but get a bite again and again.
They also have artisan cakes. These are cakes with no standard design, but rather, the presentation would depend on the decorator's mood at the particular time that the product is being made. Every dessert is very laborious and intricately decorated, Miner said.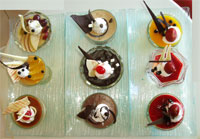 Sweet!
Eighty percent of the ingredients are imported while strawberries are sourced from Baguio. The blueberries are sourced from New Zealand.
Nothing But Desserts. Definitely, everything good and sweet in just one place. Indulge!