Twilights
Starbucks invades Bacolod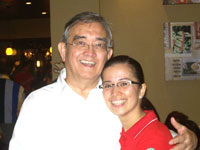 Proud Daddy Butch Lopez with daughter,
nationwide Starbucks Operations
Manager Angela Lopez-Cole.
Now, you can say it! STARBUCKS is now in Bacolod! The Who's Who in Bacolod started entering the doors of the coffee destination just before sunset as friends, associates and new acquaintances of the STARBUCKS Family sipped the favorite world-popular coffee favorite that is now in Sugar City.
Very amiable and low-profile entrepreneur and sugar planter Butch Lopez welcomed his friends as he invited them to sip coffee in the store of his very own brother, Eduardo "Jun" Lopez Jr. who operates all the STARBUCKS coffee destinations all over the Philippines.
On hand was Butch's charming daughter Angela Lopez-Cole who is the Operating Manager of all the Starbuck stores in the country, to welcome her own friends and relatives, too.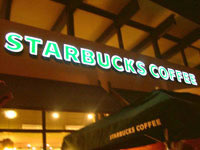 Let there be LIGHT for STARBUCKS in
Bacolod.
There was Jun Lopez, a soft-spoken and low-key businessman attending to the guests and joining his Starbucks officers who flew in to ensure the smooth flow of the inaugurals. This time it's STARBUCKS!