Catholic Bishops Conference of the Philippines (CBCP) President and Jaro Archbishop Angel Lagdameo has called on the people to be "agents of hope and poverty alleviation" in the new year.
In his New Year's message, Lagdameo said that while everybody would be hoping for a happy and prosperous year, concern should be focused on the "poorest of the poor."
A broadcaster in the capital town of Kalibo in Aklan escaped unhurt from an alleged assassination attempt by unidentified gunmen Friday evening.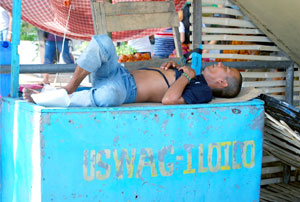 A.CHRIS FERNANDEZ
A Cebu Pacific traveler carrying more than the alloted 7 kilo-carry-on/hand-carry weight allowance ended up uncovering a feared modus operandi at the Iloilo Airport.
The good news was monitored and reported by the Philippine National Police (PNP) here even as Bacolod City topped the incident-list. Yet more incidents actually happened albeit unrecorded in PRO 6 records and hospitals, Iloilo's top cop said in a separate media interview.