The mayor as the approving authority of a deal and the mayor and his wife as recipients of that deal? Apparently too hard to swallow for a municipal engineer. As such, redress has now been sought before the government's anti-graft body with criminal complaints filed by the aggrieved town official.
ILOILO CITY—The Department of Tourism (DOT) yesterday unveiled the Boracay Comprehensive Land Use Plan (CLUP) that is aimed to regulate the development of island-resort and propel it as a "premier international tourist destination."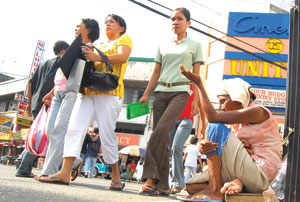 A.CHRIS FERNANDEZ
INSPITE of low turn-out in the sponsorships for the 2009 Dinagyang festival, Iloilo City Mayor Jerry Trenas is optimistic the Iloilo Dinagyang Foundation Incorporated (IDFI) will reach its P13 million budget-target.
Police Senior Inspector Virgilio Buena, then Operations Chief of Iloilo City Police Office (ICPO) broke his silence before the media on his alleged "sexual advancements" against a casual employee of Iloilo City government last week.