Iloilo City residents who get air instead of water from their faucets would no longer be forced to pay the minimum charge of P159 to the Metro Iloilo Water District (MIWD).
MIWD in a resolution passed by its Board of Directors decided to condone the payment of water bills in areas experiencing water shortage particularly in Jaro district and the waterfront barangays.
Placement of kiosks in next year's Dinagyang will follow a thematic zoning, an innovation thought by the festival's committee on kiosks in order to attract more people.
Engr. Ely Bagtasus, chair of the committee on kiosks, in an interview with Z100's Kape Beynte-Beynte.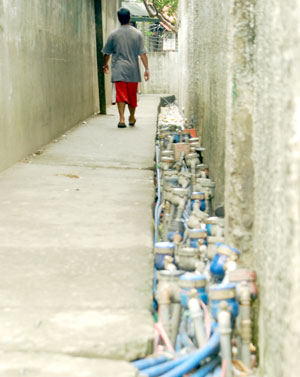 A.CHRIS FERNANDEZ
ROXAS CITY – Tricycle fare in this city will drop by one peso soon. A fare rollback was agreed upon last Saturday during a public hearing called by the joint committees on public utilities chaired by City Councilor Herbert Chu, ways and means chaired by City Councilor Jose "Joe" Agdalipe and rules and ordinance chaired by Ramon Albar held at the Dinggoy Roxas City Center.