Proponents of coal-fired power plants in Iloilo yesterday said electric rates in Iloilo would be more affordable if the power supply is generated from coal plants.
The Iloilo Dinagyang Foundation Inc. (IDFI) is targeting P13 million donations to fund the 2009 festival. The foundation has already sent letters to the prospective sponsors. None has yet to respond.
IDFI Vice Chairman Ricardo Andrada said they are hoping to collect P13 million donations with few months left before the final activity. The P13 million already include the P3 million subsidy from the city government.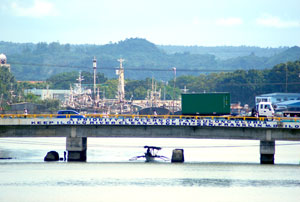 A.CHRIS FERNANDEZ
BACOLOD CITY – Complaints for plunder and administrative charges were filed by two Bacolod residents against Mayor Evelio Leonardia and other city officials including a gasoline station owner relative to the city's "highly questionable" fuel consumption.
BANGKOK, THAILAND - Hundreds of Filipino tourists, children included and returning Thailand-based Pinoy workers are among the thousands now holed up in the Suvarnabhumi International Airport here.