It is business as usual in Boracay despite the tension in some parts of the island stemming from land disputes.
BACOLOD CITY – Chief Supt. Isagani Cuevas, Police Regional Office (PRO) 6 Director, vowed to give justice to 51 neophyte cops allegedly maltreated by fellow police officers during the 45-day counter-insurgency operations training at Camp Aniceto Lacson in Victorias City, Negros Occidental.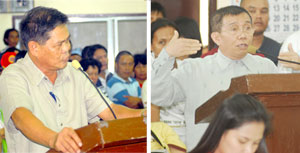 A.CHRIS FERNANDEZ
The Division of Guimaras again topped the 2007-2008 National Achievement Test (NAT) in Western Visayas with a total Mean Percentage Score (MPS) of 74.87.
Said division also topped the NAT in the preceding period (2006-2007) with an MPS of 68.37.