Groups advocating environmental protection have bonded together to condemn the ruthless uprooting of more than 400 mahogany trees inside the Iloilo State College of Fisheries (ISCOF) - Dumangas Campus which they dubbed as "mahogany trees massacre".
BACOLOD CITY – Bacolod City Police Office (BCPO) chief Senior Supt. Ronilo Quebrar's tour of duty will expire on November 11, 2008.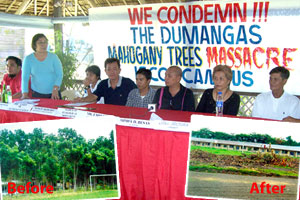 An unidentified lady disguised as a nurse kidnapped a newly-born baby girl at a rural hospital Friday morning in what appears to be an off-shoot of a feud between two families.