Ten locals are confirmed dead as an undetermined number remain missing when huge waves brought by Tropical Depression "Quinta" ripped at least three passenger pumpboats off Concepcion, Iloilo.
BACOLOD CITY – Iloilo and Bacolod cities were among the three cities in the Visayas excluding Cebu that are included in the list of "Top 10 Next Wave of Locations for Outsourcing in the Philippines."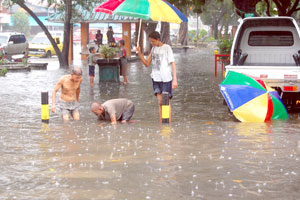 CONTRIBUTED BY JOHN JAVIER
Several persons were injured and a fire destroyed and damaged stalls and houses after violence erupted during a demolition on a disputed lot along the beach on Boracay Island yesterday morning.
Supt. Larry Decena, acting Aklan police director, said a still undetermined number of persons were hurt after unidentified persons threw stones at the demolition team and their police escorts.