The exchanges between City Councilor Antonio Pesina, chair of the committee on urban poor, human rights and minority group, and the chair of the Iloilo City Urban Poor Affairs Office (Icupao), Roy Firmeza, may open a can of worms pertaining to the city's relocation sites which have long been suspected of irregularities.
BORACAY ISLAND―The Department of Environment and Natural Resources (DENR) on Thursday scored officials governing Boracay Island for lifting a moratorium on construction projects on the island-resort.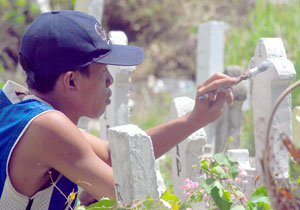 A.CHRIS FERNANDEZ
Full police visibility, police assistance centers and deployment of uniformed and plainclothes men and women of the Iloilo City Police Office (ICPO) and Iloilo Provincial Police Office (IPPO) are a-go. Expected to be busiest though are the traffic enforcers with Senior Inspector Robert "Bob" Foerster of the Traffic Management Enforcement Unit (TMEU) here on the lead.
This, as the nation marks the yearly All Saints Day celebration with peace and order situation highlighting the day.