A second witness has identified a former Aklan town mayor as the alleged gunman of slain Aklan broadcaster Herson "Boy" Hinolan.
State Prosecutor Hazel Valdez of the Department of Justice's Task Force 211 said Marijoe Icamina testified at the Cebu Regional Trial Court Branch 16 on Monday pointing at former Lezo town mayor Alfredo "Fred" Arcenio as the lone gunman who shot Hinolan last November 13, 2004.
The call for transparency, accountability and integrity is true not only in government but the Catholic Church hierarchy as well.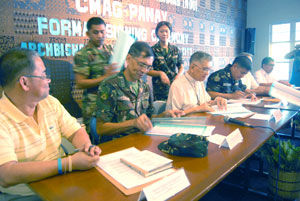 A.CHRIS FERNANDEZ
Iloilo City Police Office (ICPO) OIC Director Senior Supt. Bartolome Tobias said district police chiefs who ranked below in terms of operation and management of their respective police precincts would be given the chance to improve their performance.