Iloilo City's Dinagyang Festival is now in the hall of fame as the country's Best Tourism Event after it copped the title for the third consecutive time in the recently concluded 2008 Association of Tourism Officers of the Philippines (ATOP) convention held here.
BACOLOD CITY -- The Pollution Control Division of the Department of Environment and Natural Resources (DENR) Regional Office 6 along with the Solid Waste Management Committee of Bacolod City will hold today a technical conference at 9:00 o'clock in the morning at the PENRO Office Gatuslao Extension, Bacolod City.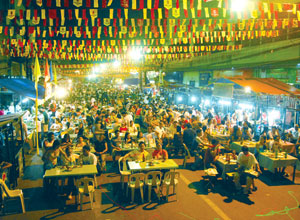 A. Chris Fernandez
The Catholic Church will continue its campaign against the Reproductive Health Bill as a survey of a Church-owned radio station showed majority of congressmen now oppose the proposed legislation.
A beerhouse in Guimbal, Iloilo was padlocked by police Friday following an earlier spot inspection that led to the discovery of a minor "Guest Relations Officer (GRO)" here.