Police are still determining the background of three armed men who were killed in an alleged shootout with intelligence operatives at a gasoline station in Iloilo City Wednesday night.
Twin victories were achieved by a town councilor in Buenavista, Guimaras who was acquitted on two criminal cases here. Found "not guilty" was Councilor Joynareh Gaitano in a case that stemmed from an October 2005 incident.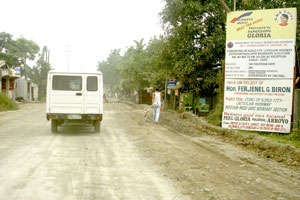 A.CHRIS FERNANDEZ
City Mayor Jerry Treñas welcomes the plan of the groups opposing the construction of a coal-fired power plant to sue him for allowing the Department of Environment and Natural Resources (DENR) to grant an Environmental Compliance Certificate (ECC) to Global Business Power Corporation (GBPC).