Capitol workers concerned on the realization of salary increase now seek intervention of no less than the Department of Budget and Management (DBM).
"Please intervene and act expeditiously," came the appeal of the group addressed to DBM Secretary Rolando Andaya Jr.
"I will leave Region 6 with wonderful memories. I want to leave in a happy atmosphere without any rancor. I have given my best service. I just wish continued quality health care for all."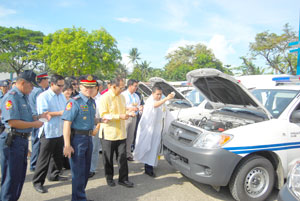 A.CHRIS FERNANDEZ
Philippine Amusement and Gaming Corporation (Pagcor) recently released P15 million for the installation of high pressured sodium (HPS) lamps from Iloilo City until the Iloilo Airport in the boundary of Sta. Barbara and Cabatuan towns.