As part of the city's crime prevention program, City Mayor Jerry Treñas issued a memorandum order to the city's 180 barangay captains to check on the status of High Pressure Sodium (HPS) lights in their areas.
Government employees in Iloilo yesterday joined a protest rally over alleged irregularities in the Government Service Insurance System (GSIS).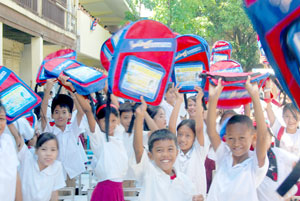 a. chris fernandez
The city government yesterday distributed 402 schoolbags to pupils of of A. Mabini Elementary School. The 402 schoolbags is part of the 42,000 schoolbags intended for the city's public elementary schools. The free schoolbags program of the city government and City Schools Division is funded under the Special Education Fund (SEF).